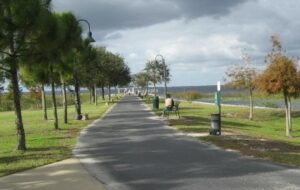 St. Cloud is a small city in Osceola County with a quaint, quiet, laid-back lifestyle in the heart of Central Florida. With a suburban feel, area lakes and parks, and plenty of room to spread out and grow, St. Cloud offers a refreshing change of pace from the busier city of Orlando, which is just to its north. Residents love living in St. Cloud because of the many new housing options, proximity to the state's most popular attractions, and relaxing lifestyle only found in suburban Central Florida. Here are a few reasons why St. Cloud, Florida is a great place to live!
Location
St. Cloud is less than 30 minutes from Downtown Orlando, making for a direct and easy commute straight up the Florida Turnpike for those who work or do business in the city. The Orlando International Airport is just 30 minutes away, and getting to the famous surf town of Cocoa Beach on the Atlantic Coast only takes an hour. St. Cloud is the perfect oasis for easy everyday living, yet close enough to world-class destinations to be there in minutes.
Affordable New Housing
If you've been looking at new homes in Orlando, especially in the Lake Nona area, and you're finding that they're coming in just over your budget, you'll want to expand your search to St. Cloud. Here, home prices are more affordable than in Orlando and some of its immediate surrounding suburbs.
Strong Future Job Growth
With the influx of new residents and large companies venturing to Florida, future job growth in St. Cloud for the next 10 years is projected to be more than 20% higher than the national average. Major industries in the area include construction, retail, health care, education, hotels and tourism, and public administration. St. Cloud already boasts a lower unemployment rate than the national average.
Great Schools
St. Cloud has one of the highest concentrations of top ranked public schools in Florida, with 20 schools serving about 15,000 students. With a variety of public, charter, and private schools in the area, parents are sure to provide a great educational foundation for their children.
Outdoor Recreation & Attractions
St. Cloud has plenty of outdoor recreation spots and a handful of smaller attractions that are fun and interesting to explore:
Lakefront Park sits at the edge of East Lake Tohopekaliga ("Lake Toho"), which is known for its bass fishing, boating, and camping. Lake Runnymede Conservation Area and Peghorn Nature Park also offer opportunities for camping, hiking, and environmental education.
A trip to Central Florida's Deseret Ranch to visit a working farm and cattle ranch is always a hit, as is bringing your guests to the ever-popular Reptile World Serpentarium for a close look at more than 75 species of snakes!
If you prefer for your heart to beat at a more relaxed pace, head to Main Street in Downtown St. Cloud. This charming neighborhood boasts restaurants, shops, and galleries that are ideal for leisurely browsing.
Of course, a game of golf is always close and convenient in Central Florida! A few of the most popular courses around St. Cloud include Royal St. Cloud Golf Links and Remington Golf Club.
Choosing Where to Live in St. Cloud, FL
St. Cloud, FL has many great housing options communities that check may check all of your boxes. These single-family home communities offer open-concept floor plans, modern finishes, and all the space and convenience your family needs.