DREAM TEAM REAL ESTATE | THE CE SHOP | REAL ESTATE LICENSING COURSES
If you ask any real estate professional why they joined the industry, you will hear a variety of reasons. Some of the best reasons include:
controlling your own schedule
unlimited income
helping others
being your own boss
starting your own company
Our brokerage has partnered with The CE Shop, an innovative and results-driven company that has been providing a stellar learning experience for both aspiring and established real estate professionals at an affordable cost since 2005.
The CE Shop is your go-to education source for the entire life cycle of your career.
Their mobile-friendly platform provides you access anywhere at any time, allowing you to learn at your own pace without disrupting your busy schedule.
For course or licensing questions, The CE Shop customer support team is available 7 days a week for your convenience.
COURSES AVAILABLE (click each link for course information)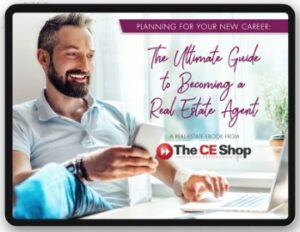 HOW TO GET YOUR REAL ESTATE LICENSE
Click here to download the eBook instantly! 
Get more information about all of the CE Shop's educational tools and classes by clicking the link for our education site at https://dreamteamre.theceshop.com/.