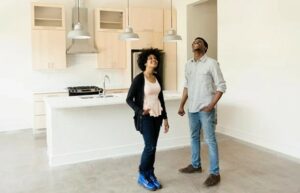 If you have delayed your home search at any point over the past two years, you may want to consider resuming it. The supply of homes for sale is increasing, giving buyers like you additional options.
While inventory is improving, it's still a sellers' market. That means you need to be prepared as you set out on your home search journey again. Here are three tips for buying that home of your dream home:
1. Understand How Mortgage Rates Impact Your Homebuying Power
Mortgage rates have increased significantly this year, and more adjustments may be forthcoming to steady inflation numbers. It's important to stay up to date on what's happening with rates and understand how they can impact your purchasing power when you're thinking of buying a home. The chart below can help.
Let's say your budget allows for a monthly mortgage payment in the $2,100-$2,200 range. The green in the chart indicates a payment within or below that range, while the red is a payment that exceeds it.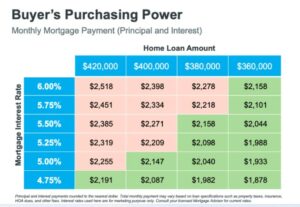 As the chart shows, even a small change in mortgage rates can have a big impact on your monthly payments. If rates rise, you could exceed your budget unless you look to increase your budget to a lower home loan amount. If rates fall, your purchasing power may increase, which could give you additional options for your search.
2. Be Open to Exploring Different Options During Your Search
As mentioned, home inventory is improving, which gives you more homes to choose from, but supply is still low. Upon resuming the search, if you still don't find something that meets your needs, it may be time to expand the parameters of your search.
This might include opening yourself up to more areas. For example, if there's a location you've previously ruled out (like a particular town, for example) it may be worth taking another look.
Opening your search to include other housing types, like newly built homes, condominiums, or townhomes can further increase your pool of options. Casting a wider net will help you consider more options and help you find a hidden gem.
3. Work with a Local Real Estate Professional for Expert Guidance
No matter where you're at in your homeownership journey, the best way to make sure you're set up for success is to work with a real estate professional. If you're just starting your search, a real estate professional can help you first understand your local market and then embark on a serious search for available homes. When it's time to make an offer, they will help yours to stand out above the rest without going overboard as we've seen in the past chaotic housing market where buyers were offering thousands and thousands over the asking price!
Others will try to 'time' the housing market. But, strategically planning YOUR home search by: first understanding today's mortgage rates, casting a wide net, and then building a team of experts are the keys to finding the home of your dreams. To make sure you have expert advice each step of the way, partner with one of a local real estate advisors.